Gate Repair Services
Back To Our Services
Sliding gate wheels, issues related to the hinges, damaged tracks and malfunctioning openers are all fixed by our company. What our team promises is to get every issue solved by responding as soon as possible, troubleshoot the mechanism and provide immediate repair solutions. We have been in the business of gate services for years, have vast experience in different types of residential gates, know how to take care of operators and are familiar with the latest intercom systems. The repair services offered by our business include welding reinforcement, motor repair, chain replacement and panel adjustment. When you have a hard time moving the gate or urgently need swing gate post repair, rest assured that our company can help you. As specialists in all residential services, our technicians have the knowhow and expertise to repair all parts of the system.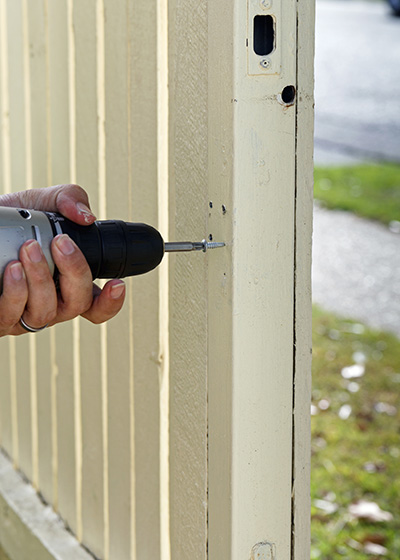 Depend on our residential gate repair services
With us, you won't have to stress for a second about your electric gate is not closing all the way. One of the things our company guarantees is to take care of emergency problems as soon as possible. Issues related to the movement and overall behavior of gate and which might make your access impossible, your life difficult and your safety doubtful are handled in timely fashion. With the technical foundations of our company enabling us to offer fast response gate repair services, we make sure emergency needs are covered in just a short time. You can count on us to adjust the gate, fix the opener, and take care of any other part of the system.
Gate repair needs signify urgency per se. That's why our professionals try to serve the needs of customers in a timely manner, keep the necessary tools stocked in each company repair van, and are very well organized. Our clients can rest assured that our technicians have the skills to take care of gates, fix parts, service operators and make the necessary replacements, changes and adjustments. When you trust our team for your repair needs, you can also trust that the job will take place on time and be done properly. If there is need to replace the sensors, track or wheels, our technicians will let you know. If there is need for hinge welding repair, the service will take place as soon as possible.
With our repair services, your gate will work fine. We fix any part, troubleshoot the system, inform the client for the reasons of the problem, make adjustments and repair the operator. Trust us to fix the driveway gate operator, the intercom, the sensors and all components of the system. Rely on us when you urgently need our assistance. Contact us every time you need experts to repair your gate! Call us today!